phpAdsNew Text Ad With CSS
Setting Up The Text Ad Campaign
We will now setup a text ad and then insert the invocation code. The order in which these two steps are done does not matter because phpAdsNew is smart enough to show nothing or the default ad if there is no are banners in the queue.
We need to log into the phpAdsNew system as a user that has the ability to create campaigns for advertisers. It is possible you do not even have an advertiser setup and if you do not then you will need to set one up now. If you need help with that I suggest reading the phpAdsNew manual.
You should be in the "Inventory" tab with the sub tab being "Advertisers & Campaigns". The page will look similar to the image below.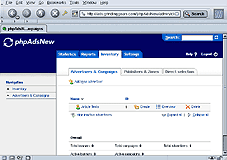 From here all we have to do is click on the "Create" link to the right of the advertisers name.
The next page you are brought to should say "Add new campaign" as the sub tab and in the name field you should have "[advertisers name] - Default". My standard way of naming a campaign is "[advertisers name] - [site name] - [zone name]". So in this case my name is going to be "Article Tests - Grinding Gears Article Tests - test text". It is a long name but it makes it easy to figure out where the ads are running.
I am going to keep everything the way it is by default because I do not want this ad to expire. I will be putting this ad on the next couple of pages of the article so that as you read this you will be able to see how the css changes the attributes of the text ad. If I had set it to expire on a certain date or after a certain number of impressions then the ad would stop showing once one of those criteria were hit. By not setting anything the ad will continue to run forever unless I manually come in here and change some settings.
On your site you will probably want to limited the ad either by the number of impressions or by an expiration date; if you need to set those settings or other settings do so now before pressing the "Save Changes" button.


View phpAdsNew Text Ad With CSS Discussion
Page: 1 2 3 4 5 6 7 8
Next Page: Creating The Text Ad
Copyright 2003-2004 Matthew Drouin. All rights reserved.