phpAdsNew Text Ad With CSS
Setting Up The Text Ad Zone
This tutorial is going to assume you already have a publisher setup. If you do not have a publisher already setup then you will want to read the phpAdsNew manual on how to do that.
Lets login to the ad system, usually at http://www.domain.com/phpAdsNew or something similar. You will need to login as a user who has the ability to create a new zone. The image below is of a publisher with no zones and we are going to create a text zone from scratch with the idea that we will want it to look different on different pages.
We click on the "Create" link to create the new zone. Depending on what your naming scheme is, everyone should us a naming scheme as to keep things similar and easier to navigate, you will want to name the zone and give it a description. In this case we name the zone "Grinding Gears Article Tests - test text" because I named the advertiser "Grinding Gears Article Tests" and this is a test of the text ads.
You will now want to select the "Text ad" radio button because this is a text ad zone.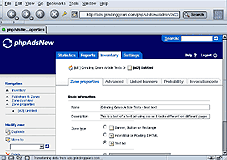 Once you hit the next button you will be taken to the "Advanced" tab which most people just ignore. We actually do not want to ignore this tab because this is were we will make the text ads look different on different pages.


View phpAdsNew Text Ad With CSS Discussion
Page: 1 2 3 4 5 6 7 8
Next Page: The Advanced Tab
Copyright 2003-2004 Matthew Drouin. All rights reserved.