Using Mytop: A MySQL Monitor
Mytop Command View
This view is very straight forward in that the Command column is the type of command or query being run. The Total column stands for the total number of that type of command being run since the server started and the column to the right of it is the Pct column which stands for percent and is the percent in which that command is being called.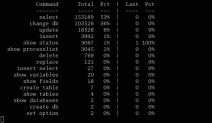 On the other side of the vertical line we have Last which tells us how many of that type of command were called since the last refresh of mytop and the Pct column to the right of it is the percent between the last refresh and this refresh that the command was called.
The first set of columns are used to see what the server is doing over a long period of time where the second column is over a short period of time. Just a reminder you get to this view by pressing the "c" key and to get back to the thread view you press the "t" key.
View Using Mytop: A MySQL Monitor Discussion
Page: 1 2 3 4 5
Next Page: Mytop Short Cut Keys
Copyright 2003-2004 Matthew Drouin. All rights reserved.