Using Web widgets wisely, Part 1
A word about widget labels
Every Web widget should include a label to ensure that users know its purpose. Sumanth Muthalya, a usability specialist in Compuware's Product Division, offers these guidelines when labeling Web widgets:
End all labels with a colon. The colon tells users where a label ends and a Web widget begins. Colons also improve the ability of screen readers to interpret the label text.
Avoid self-labeling text boxes. If the user starts to make a text entry, but stops, the label will disappear along with the context for the text field.
Line up all fields on a left margin (for audiences that read left to right) to facilitate scanning.
Use at least one space between the label and the Web widget. Use more space if that will help align the widgets as shown on the Detroit News online subscription form (see Figure 17).
If your labels vary in length, choose a short label alignment point and a long label alignment point to minimize the number of unique margins, and improve scanability.
Figure 17. Detroit News subscription online form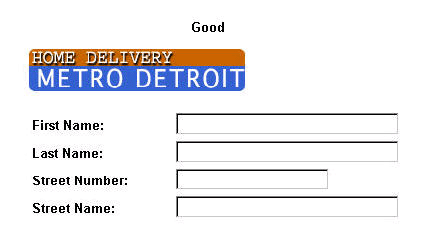 View Using Web widgets wisely, Part 1 Discussion
Page: 1 2 3 4 5 6 7 8 9 10 11
Next Page: Other Web widget usability tips